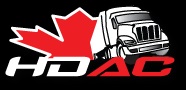 Harman HVS is a charter member of the HDAC, having been a member since the group's inception in 1984 as the HDDC.  In 2015, HDDC became The Heavy Duty Aftermarket of Canada.  The HDAC is comprised of more than 20 Warehouse Distributor and 40+ Manufacturers from across Canada in the Heavy Duty Commercial Vehicle industry. The Council is a voice for the Canadian Heavy Duty Transportation Industry and is an advocate for vehicle safety, industry training and addressing issues facing the Canadian HD Transportation Industry.
HDAC holds its annual industry meeting and AGM every June and is an annual contributor to the HDAC Scholarship program for aspiring Heavy Duty Truck and Trailer technicians.
To find out more about the HDAC or how to become a member please visit www.hdac.ca.